Der Bewerbungsprozess
und wie Sie als nächstes Vorgehen sollten!
Die Auswahl des Wunschberufs
Im oberen Reiter wählen Sie Ihr Interesse:
Angebote für Schüler: Sie gehen noch zur Schule und suchen unsere Angebote wie Ausbildung, duales Studium oder Praktium.
Angebote für Studenten: Als Student möchten Sie ihre Bachelorthesis oder Masterarbeit bei uns schreiben oder sich als Werkstudent oder Praktikant ein Bild vom VDMA machen.
Angebote für Einsteiger & Erfahrene: Nach dem Studium oder bereits mit Berufserfahrung können Sie sich hier einen Überblick über aktuelle Stellenausschreibungen machen.
Online Bewerbung
Sie haben sich für einen anspruchsvollen Job in einem großen Wirtschaftsverband entschieden?
Aktuelle Stellenangebote und das Online Bewerbungsportal finden Sie auf den Seiten für Schüler. Studenten und Einstieger & Berufserfahrene oder ganz einfach hier.
Analyse Ihrer Unterlagen
Erfüllen Sie unser Anforderungsprofil und haben uns mit ihren Bewerbungsunterlagen überzeugt?
Nach sorgfältiger Prüfung Ihrer Unterlagen erhalten Sie von uns eine Rückmeldung.
Einladung zum 1. Gespräch
Sie können uns auch persönlich von Ihnen überzeugen?
In einem Gespräch mit dem entsprechenden Vorgesetzten lernen Sie das Stellenprofil und die Fachabteilung besser kennen.
Einladung zum 2. Gespräch
Nach dem ersten erfolgreichen Gespräch haben Sie nun die Chance, uns noch besser kennenzulernen.
Das zweite vertiefende Gespräch findet mit dem Leiter der Fachabteilung und der Personalabteilung statt.
Vertrag
Auch beim Zweitgespräch konnten Sie uns überzeugen?
Sie erhalten unseren Arbeitsvertrag.
Ihr erster Arbeitstag
Willkommen im VDMA!
Wir wünschen Ihnen einen guten Start und viel Erfolg!
Schreiben Sie Ihren Text hier
Schreiben Sie Ihren Text hier
Asset Publisher
Mechanical and plant engineering - a key sector
This classic branch of industry is one of the largest and most important employers in Germany. More than 1.3 million people are employed in mechanical engineering and plant construction.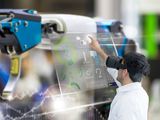 We for our members - Service providers VDMA
The VDMA, as one of the largest and most influential trade associations in Europe, supports mechanical engineering and represents it politically. And not only in Germany, but also abroad!
Long history - great perspectives!
The origins of the VDMA lie in the founding of the Verein Rhein-Westfälischer Maschinenbauanstalten in Düsseldorf as early as 1890. The Verein deutscher Maschinenbau-Anstalten (VdMA) (Association of German Mechanical Engineering Institutions) was founded after just two years.