Asset Publisher
You are a student and will soon finish your school education? Then apply to the VDMA for a training position! We train you as a businessman (m/f/d) for office management & IHK foreign language correspondent English and as a businessman (m/f/d) for insurance and finance.
If you are a pupil, student or graduate and are looking for an internship in the commercial sector, then take the opportunity to get to know our company and become part of our team. We offer you a varied internship with varied tasks.
Asset Publisher
Long history - great perspectives!
The origins of the VDMA lie in the founding of the Verein Rhein-Westfälischer Maschinenbauanstalten in Düsseldorf as early as 1890. The Verein deutscher Maschinenbau-Anstalten (VdMA) (Association of German Mechanical Engineering Institutions) was founded after just two years.
Mechanical and plant engineering - a key sector
This classic branch of industry is one of the largest and most important employers in Germany. More than 1.3 million people are employed in mechanical engineering and plant construction.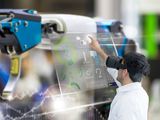 We for our members - Service providers VDMA
The VDMA, as one of the largest and most influential trade associations in Europe, supports mechanical engineering and represents it politically. And not only in Germany, but also abroad!
Gül Safiye Tokmak
Human Ressource Management Bewerbungsmanagement
(+49) 69 6603 - 1116
(+49) 69 6603 - 2116
karriere@vdma.org